Artist-in-Residence
Weeksville Heritage Center's Artist-In-Residence program connects working artists from the African diaspora to the archives and inspiration of 19th century Weeksville. It leverages our Historic Hunterfly Road Houses as a site of inspiration, creation and exhibition for work that speaks to the present and helps make Weeksville's history relevant and resonant.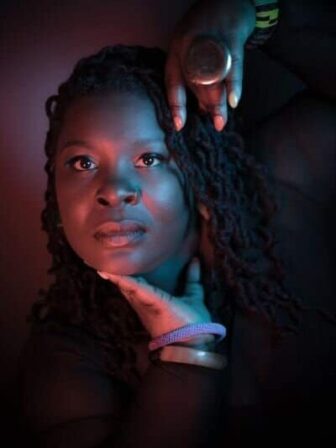 PAST ARTIST-IN-RESIDENCE
Ebony Noelle Golden
(2020-2023)
Ebony Noelle Golden is the creator and lead artist of Jubilee 11213, and the creator and lead facilitator of the Freedom Fellowship. She is an artist, scholar, and culture strategist from Houston, TX and currently based in Harlem. She devises site-specific ceremonies, live art installations, creative collaborations, and arts experiments that explore and radically imagine viable strategies for collective black liberation. In 2020, Ebony launched Jupiter Performance Studio (JPS) which serves as a hub for the study of diasporic black performance traditions. JPS is integral to the development of a five-part theatrical ceremony that will be developed and produced over the next three years with partners in Harlem, Brooklyn, Durham, and Ashfield, Massachusetts. In 2009, Ebony founded Betty's Daughter Arts Collaborative, a culture consultancy and arts accelerator, that devises systems, strategies, solutions for and with education, arts, culture, and community groups globally. You can learn more about Ebony and her work by visiting bettysdaughterarts.com.
Learn more about Jubilee 11213.
---
PAST ARTISTS-IN-RESIDENCE
Mendi + Keith Obadike
(2018)
Mendi + Keith Obadike make art, music, and literature. They have exhibited and performed at The New Museum, The Studio Museum in Harlem, The Metropolitan Museum of Art, and The Museum of Modern Art. Their projects include a series of large-scale, public sound art works: Blues Speaker (for James Baldwin) at The New School, Free/Phase at the Chicago Cultural Center & Rebuild Foundation, Sonic Migration at Scribe Video Center & Tindley Temple, Philadelphia and Compass Song, an app for Times Square (commissioned by Times Square Arts). They have released recordings on Bridge Records and books with Lotus Press and 1913 Press. Their recent museum exhibitions include the group shows Electronic Superhighway (2016-1966) at The Whitechapel Gallery in London, I Was Raised on The Internet at The Museum of Contemporary Art Chicago and the upcoming PROGRAMMED at The Whitney Museum of American Art. They were invited by the Netgain Partnership (Ford Foundation, Knight Foundation, MacArthur Foundation, Mozilla Foundation and Open Society Foundations) to perform their work "Numbers Station" at the Museum of Contemporary Art Chicago. Their other honors include a Rockefeller New Media Arts Fellowship, Pick Laudati Award for Digital Art, a New York Foundation for the Arts Fellowship in Fiction, and the Louis Comfort Tiffany Biennial Award.
Keith received a BA in Art from North Carolina Central University and an MFA in Sound Design from Yale University. He is a professor in the College of Arts and Communication at William Paterson University and serves a digital media editor at Obsidian.
Mendi received a BA in English from Spelman College and a PhD in Literature from Duke University. She has been a Cotsen Postdoctoral Fellow at Princeton University and a poetry editor at Fence Magazine. She is currently an associate professor in the Writing Department and the Department of Humanities and Media Studies and she directs the Graduate Program in Media Studies at Pratt Institute